Attractions in Marikina, Philippines (609)
2 Recommendations: 2 Favorable,
The Marikina River Park has become popular as camping site, a picnic ground and a recreational park-a place where you can go jogging, bike and skate or just relax in one of the benches. Over the the past two decades, The Marikina River has been transformed from a virtual dump site into a Hall of Fame Awardee for the Cleanest Inland Body of Water in the Philippines. It is also the second city in the country to be part of the prestigious Global 500 Roll of Honor of the United Nations Environmental Program (UNEP) and is considered one of the Healthiest and Most Livable Cities in the Asia Pacific Region. Visit Marikina and you'll love the place.
Reviewed by Riza Failma
Updated 952 days ago
2 Recommendations: 2 Favorable,
nice and cheap place to shop with... in the Philippines.. yesterday we went there with my sister.. we bought gift items like toys, and school supplies. But be careful with pick pockets guys... its so unfortunate to encounter them in a busiest place in MaNILA.
Reviewed by Jodin V. Panganiban
Updated 1092 days ago
2 Recommendations: 2 Favorable,
Market-Market Terminal is located in Taguig City. This mall is very convenient commercial destination to all walks of life because the transportation terminal is also located in this area. Opposite to the mall is an open court where you can do wet market. Stalls sell many kinds of vegetables, fruits, flowers, native delicacies , meats, and even dried fish.Array of stalls, sell fresh and hot food if one prefer to have quickie snacks or indulge in a sumptuous dinner. The opposite side is a high rise airconditioned mall. The atrium is brightly decorated with christmas glitters and light. In the center is the kiddie playground. Around it are array of stalls that sell china made toys, apparels, bags, perfumes, rings, bangles, necklaces, belts and many others. Further inside are boutiques that sell imported branded goods. Groceries are found in this area too. The second floor is where you can find the department stores that sell almost the same but the difference is the price. You can't huggle and ask big discount. It is FIX. The third floor are arrays of cubicles that sell gadgets like cellphones, cameras, i-pods and many others. You will also find dental clinics, derma clinics and Eye clinics. Wide parking space is available with guards on duty that secures your vehicle and things inside the area. So if you're in Taguig, why not try dropping by into this place...it's worth visiting.
Reviewed by Riza Failma
Updated 1093 days ago
2 Recommendations: 2 Favorable,
Abe (ah-beh) is a Capampangan (a person living in the province of Pampanga, in Central Luzon, Philippines) word meaning "friend". It is also an award-winning Restaurant of Filipino Cuisine with a strong Capampangan accent. Abe can be found at the 2/F Serendra Piazza, Bonifacio Global City Market Market Loading/Unloading Bay, Taguig City. It is a restaurant dedicated to Larry's Cruz's father, the late artist-writer, gourmet and bon vivant E. Aguilar "Abe" Cruz. The restaurant serves traditional Filipino food, mostly of Capampangan origin, and gourmet dishes inspired by Abe's travels around the world. At Abe, food is prepared and served with a great deal of love while its concept and design provide the ideal setting for friends and family who wish to dine comfortably and have a good time. A sampling of their menu describes the total Filipino taste - for example, the 'baby squid' is so tender, it melts in your mouth. The 'gising gising' is not as hot as it says on their menu but it's still really good with a trace of spiciness. The 'lechon paksiw" is very crispy despite it having been cooked in the sauce! The cozy ambiance is so appealing and friendly crews are a welcome change from other restaurants whose crews are so stressed that it shows!
Reviewed by Jun Jacolbe
Updated 1109 days ago
2 Recommendations: 2 Favorable,
The perks of pampering your body with different kind of experiences such Spas, body massage, steam baths and eating foods without time and limit, these is the place to go. You can forget the stresses of a day's long work and enjoy the rest with family members, friends, classmates and whomever you want to treat and bring into.Relax and enjoy.
Reviewed by roger tkai
Updated 1111 days ago
2 Recommendations: 2 Favorable,
This is the first branch of Savory Restaurant in the Philippines and I believe it has the most authentic and original taste of the so called "Savory Chicken" which is its main specialty. Besides this, it brings back memories of my childhood days when my father (whose office is just nearby this restaurant) used to bring us (my mother, me, 4 brothers and 5sisters) to this restaurant especially after going to mass at Sta. Cruz Church which is also nearby. It is just like revisiting the happy days of our big family's memoir. Another attraction is that it also serves Chinese cuisine too because of its proximity to Chinatown so we can order chinese dishes together with Filipino dishes thereby making our meal much more satisfactory.
Reviewed by Catherine Revilla
Updated 1118 days ago
2 Recommendations: 2 Favorable,
Sofitel Philippine Plaza is located on a prime location along Roxas Boulevard near Cultural Center of thePhilippines complex in Pasay City. The hotel is well known as the only resort-style hotel on Manila Bay. It is a paradise in the city with 609 rooms and suites with balconies overlooking the Manila Bay with it's world-famous sunset. This elegant and luxurious accommodation offers an on-site convention center. Guests may relax by massage or by being pampered at the spa. The hotel is very close to nightspots, shopping centers and historic sights. Fine international cuisine are available at Spiral and freshly-grilled seafood can be had at Sunset Barbecue. With cultural dance performances in the garden to booth it is a complete package for the guests to enjoy. Dining outlets within the premises include the Cafe Plaza, Alfiere, the China Sea, and Treasure Island. This hotel boasts of 17 different function venues, including a huge pillarless grand ballroom and the Harbour Garden Tent, an enormous outdoor venue that can cater for up to 2000 delegates. With elegant accommodations, quality services and excellent meeting facilities, the Sofitel Philippine Plaza is an ideal place to be for all kinds of weary travellers.
Reviewed by Jun Jacolbe
Updated 1119 days ago
2 Recommendations: 2 Favorable,
The Heritage Cafe & Restaurant, just to clarify, is not the same as the Heritage Hotel. The Heritage Cafe & Restaurant is inside the walled city found on Cabildo cor. Urdaneta St., Plaza San Luis Complex, Intramuros - site of edifices that feature old colonial style architecture, cobble stone roads, and Spanish era cathedrals. The cafe is considered the premier Filipino Restaurant in Manila because it showcases the finest Filipino foods although their recipes also include international delicacies. This restaurant is truly a gem and a must see for anybody looking for fine dining in Manila. And their "all you can eat" gourmet buffet, or regular services are most impeccable treats to your cultured palate.
Reviewed by Jun Jacolbe
Updated 1208 days ago
2 Recommendations: 2 Favorable,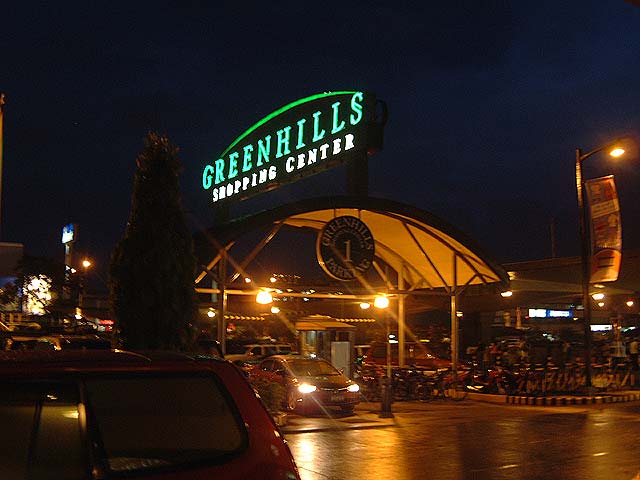 Greenhills, you can find nice bags here especially for ladies. This place is a great shopping center. When you want to give gifts to friends look for it at Greenhills. Restaurants are nearby, foreign restaurants and locals. try at Freska and eat Ilonggo foods.
Reviewed by Joy Amoncio
Updated 1211 days ago
2 Recommendations: 2 Favorable,
Seaside Macapagal is an offshoot of Seaside Market Baclaran which was founded 34 years ago. This time, however, the third generation of the family who started the "palengke paluto (market on the spot cooking" has put more foresight in planning this particular branch of the business. The area is huge (around 15,000 sq.m. about 20 times that of Baclaran). It is relatively very new and is upscale in terms of clientele and ambiance. It started Dec. 16, 2005 and assessment of the venture tells us that it is a huge success. This 200-stall (started with 140 stalls) wet market actually boasts of being dry. Because the place is maintained as such with food grade sanitizers and disinfectants to ensure cleanliness of the market and the display areas by round the clock maintenance personnel. It boasts of 40 "paluto" (on the spot cooking) restaurants which can cook seafood items in Filipino, Chinese, Japanese, Korean styles of cooking and likewise from other countries.
Reviewed by Jun Jacolbe
Updated 1228 days ago
prev
[1]
[2]
[3]
[4]
[5]
[6]
[7]
[8]
[9]
[10]
next