Last edited by Kristina Rim
Edit
Facts:
| | |
| --- | --- |
| Other names: | |
| Opening Hours: | 8:00-22:00 |
| Rates: | |
| Website: | http://www.akropolis.lt/index.php/akropoliai/kauno-akropolis/619 |
| Email: | |
| Telephone: | |
| Fax: | |
| Public Transport: | The closest public transport stops are called "Griunvaldo g." and "Gedimino g." |
| Parking: | Free parking |
| First to Review: | Donatas Pilinkus |
Reviews
Favorable
Activities , Family , $$ Updated 1094 days ago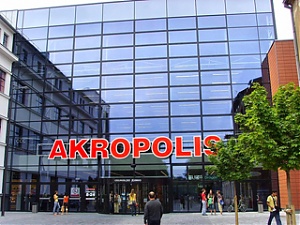 There are a lot of small shops,one big super market,about ten places to eat also you can find a bowling center there and cinema. There is a Christmas market these days as well so you can find some hand made sweet things to put for your family and friends under the christmas tree.
Review by Giedre
Favorable
Activities , Family Updated 1130 days ago
This is one of the best shopping centres in Kaunas, in fact, the largest one. The location is favourable for the visitors of Kaunas, as the Akropolis shopping centre is located nearly in the heart of the city, close to the main pedestrian high street - Laisves Avenue. Unfortunately, after the Akropolis SC was opened, Laisves Avenue is suffering from the much smaller foot flow... It is worth to add, that currently there are 4 shopping centres in Lithuania under the same name "Akropolis". i.e. in four largest cities - Vilnius, Kaunas, Klaipeda and Siauliai.
Review by Daiva
Favorable
Activities , $ , Outdoors Updated 1155 days ago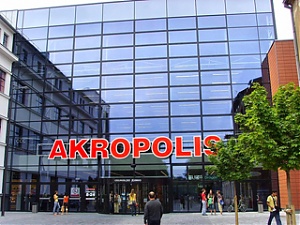 This is the largest trading centre in the heart of the city. There are a lot of brand shops in this place. At the same time you can enjoy food in different restaurants, you can go for skating, you can watch movies and do many more things. This place attracts a multitude of people during weekends.
Review by Donatas Pilinkus